Tungsten Electrodes, Extra Fine Tip
Tungsten Electrodes, Extra Fine Tip

Share
with Polymide Tubing (MicroProbes)
Description
Tungsten is a versatile and widely-used microelectrode material that offers a good balance between performance and cost.
Advantages
Disadvantages

Extremely strong and stiff metal provides probes with exceptional rigidity.
Great for acute and chronic recording due to biocompatibility and lower cost.
High corrosion resistance offers consistent long-term performance.

Does not provide the same degree of electrochemical performance or stability as platinum-iridium alloy, making it a poor alternative for microstimulation.
Lower charge transfer capacity of tungsten will result in larger, potentially unsafe interfacial potentials when applying the same stimulation current as to a platinum-iridium electrode.
Certain pH or stimulation conditions can lead to tungsten corrosion.
These Monopolar Microelectrodes of MicroProbes are, with other tip profile, available in Platinum-Iridium alloy, Elgiloy (an alloy similar to stainless steel), and Pure Iridium metal. As an alternative we provide them with a thin coat of Parylene-C insulation instead of the Polymide tubing. Each electrode is etched to a fine taper and tipped using a proprietary process to a specific impedance value. Four different tip profiles are available, see below.
We offer a variety of different tip alternatives for those that prefer a specialized electrode profile for their research. The tip selection can provide subtle yet important changes to the performance of the electrode. It is recommended that first time users consider experimenting with different tip profiles to determine which works best for their recording or stimulation protocols.
For some applications concentric or bipolar electrodes (stereotrodes) are useful.
Monopolar Electrodes, Tungsten, Extra Fine Tip
(75 µm × 3")
With Polymide Tubing
Item

Length

Shaft Diameter

Tip Diameter

Impedance


Applications

Pkg of 10

WE3PT30.01F3

76 mm

0.145 mm

1-2 µm

0.01 MΩ

MultiUnit & ERP recording & Stim

WE3PT30.05F3

76 mm

0.145 mm

0.05 MΩ

WE3PT30.1F3

76 mm

0.145 mm

0.1 MΩ

WE3PT30.5F3

76 mm

0.145 mm

0.5 MΩ

Single & multiunit rec. & stim.

WE3PT31.0F3

76 mm

0.145 mm

1 µm

1.0 MΩ

WE3PT31.5F3

76 mm

0.145 mm

1.5 MΩ

WE3PT32.0F3

76 mm

0.145 mm

2.0 MΩ

Greater Selectivity & Micro. Stim.

WE3PT32.5F3

76 mm

0.145 mm

2.5 MΩ

Greater Selectivity - Small Cells

WE3PT33.0F3

76 mm

0.145 mm

3.0 MΩ

WE3PT35.0F3

76 mm

0.145 mm

5.0 MΩ
Monopolar Electrodes, Tungsten, Extra Fine Tip
(125 µm × 3")
With Polymide Tubing
Item

Length

Shaft Diameter

Tip Diameter

Impedance


Applications

Pkg of 10

WE3PT30.01F5

76 mm

0.216 mm

1-2 µm

0.01 MΩ

MultiUnit & ERP recording & Stim

WE3PT30.05F5

76 mm

0.216 mm

0.05 MΩ

WE3PT30.1F5

76 mm

0.216 mm

0.1 MΩ

WE3PT30.5F5

76 mm

0.216 mm

0.5 MΩ

Single & multiunit rec. & stim.

WE3PT31.0F5

76 mm

0.216 mm

1 µm

1.0 MΩ

WE3PT31.5F5

76 mm

0.216 mm

1.5 MΩ

WE3PT32.0F5

76 mm

0.216 mm

2.0 MΩ

Greater Selectivity & Micro. Stim.

WE3PT32.5F5

76 mm

0.216 mm

2.5 MΩ

Greater Selectivity - Small Cells

WE3PT33.0F5

76 mm

0.216 mm

3.0 MΩ

WE3PT35.0F5

76 mm

0.216 mm

5.0 MΩ

WE3PT36.0F5

76 mm

0.216 mm

6.0 MΩ
Common Tip Profiles: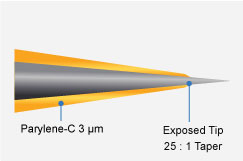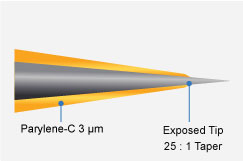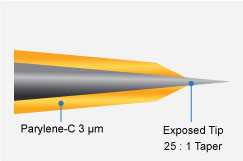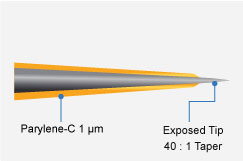 Also see:
Selecting the Optimum Electrode Configuration
Tungsten Electrodes, Extra Fine Tip