RC-33DL, RC-33DM, RC-33SM, RC-33SN, RC-33/KIT
RC-33DL, RC-33DM, RC-33SM, RC-33SN, RC-33/KIT

Share
Disposable Perfusion Inserts for 35 mm Dishes (Warner)
Description
Designed to drop into the popular Corning 35 mm dish and provide a low cost perfusion chamber that's also disposable.
Low cost disposable chamber inserts for 35 mm Corning dishes
Slot-shaped bath for applications requiring rapid perfusion
Warner's diamond shaped bath in the large bath versions maintain Laminar flow characteristics
Both temperature and perfusion control are possible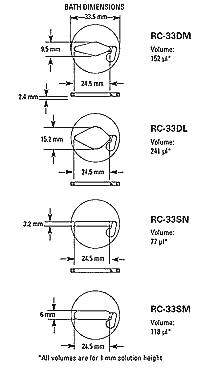 The RC-33DL, RC-33DM, RC-33SM, and RC-33SN dish inserts are designed to drop into a Corning 35 mm dish to create a low cost, disposable perfusion chamber. The dish and insert combination can be used with any of Warner's microincubation chambers or the QE-1 quick exchange platform.
The low volume of the RC-33SN and RC-33SM slotted bath chambers and the natural laminar flow allows rapid exchange of solution, facilitating drug application studies. The diamond shaped baths of the RC-33DM and RC-33DL provide a larger working area while maintaining good flow characteristics. A suction well is incorporated into all inserts to insure quiet operation.
An available kit, the RC-33Kit, is a twelve pack containing three of each insert type.


| | | | | |
| --- | --- | --- | --- | --- |
| Model | RC-33DM | RC-33DL | RC-33SN | RC-33SL |
| Bath Style | Diamond | Diamond | Slotted | Slotted |
| Bath Length | 24.5 mm | 24.5 mm | 24.5 mm | 24.5 mm |
| Bath Width | 9.5 mm | 15.2 mm | 3.2 mm | 6.0 mm |
| Bath Vol | 152 µl/mm | 241 µl/mm | 77 µl/mm | 118 µl/mm |
| Outer Diameter | 33.5 mm | 33.5 mm | 33.5 mm | 33.5 mm |
| Thickness | 2.4 mm | 2.4 mm | 2.4 mm | 2.4 mm |
RC-33DL, RC-33DM, RC-33SM, RC-33SN, RC-33/KIT