RC-31

Share
Low Profile Parallel Plate Flow chamber (Warner)
Description
The RC-31 is closed bath low profile chamber incorporating special features for microscopic confocal imaging.
Adjustable distance between upper and lower coverslips, 50 µm to 350 µm
Optimal control of culture conditions and cellular environment
Compatible with both upright and inverted microscopes
Amenable for long term studies using live cells
These features include user defined bath geometry and a large viewing area.  A 30 mm, #1.5 glass coverslip forms the top of the chamber, while a 40 mm, #1 coverslip forms the bottom, respectively, creating a closed bath.  The closed design allows the chamber to be inverted in the mounting platform enabling its use with both inverted or upright microscopes. The final viewing aperture is 25 mm diameter.
Variable Bath Volume/Fast Perfusate Exchange: The side walls of the RC-31 bath is formed by a silicone gasket sandwiched between the top and bottom coverslips. Wall height (i.e. spacing between the two coverslips) can range from 50-350 µm and is defined by the thickness and number of gaskets used.
Blank gaskets are supplied with the chamber permitting the development of the customized bath geometry required for individual applications.
Pre-cut gaskets are supplied with the chamber; one cut wide to allow full use of the aperture window (17.7 mm diameter) and a narrow, slotted version (4 × 37 mm) for fast solution exchange and blank gaskets for customized bath shapes.
The bath volumes for these pre-cut, 250 µm thick gaskets are 26 µl for the slotted cut and 133 µl for the wide cut.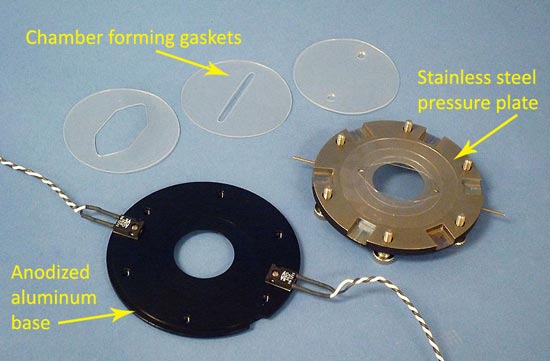 Included with the chamber
1 pk Blank gaskets 250 µm
1 pk Blank gaskets 375 µm
1 pk Blank gaskets 100 µm
1 pk Slotted gaskets 250 µm
1 pk Slotted gaskets 375 µm
1 pk Slotted gaskets 100 µm
1 pk Large gaskets 250 µm
1 pk Large gaskets 375 µm
1 pk Large gaskets 100 µm
1 pk 30 mm Round coverglass
1 pk 40 mm Round coverglass
10 ft PE-90 Tubing
Physical Dimensions (H × D)
    11.5 × 82 mm
Viewing Area
    23 mm in diameter
Weight
    0.22 kg, assembled with optional heaters
Construction
    Aluminum, black anodized
Gaskets
    Silicone rubber
Input/Output Tubing
    PE-90
Coverslips
    Top: 30 mm round, #1.5 Thickness
     Bottom: 40 mm round, #1 Thickness
Microscope Stage Adapters
Uses Series 30 stage adapters. For exterior dimensions use exterior dimension information for corresponding Series 20 adapters.
Microscope Stage Adapters are available for major models of Leica, Nikon, Zeiss, Olympus, Prior, Ludl, Burleigh