RC-30, RC-30HV, RC-30WA

Share
Confocal Imaging Chambers (Warner)
Description
The RC-30 is a low profile closed bath chamber specifically designed for confocal imaging applications.  Compatible with either upright or inverted microscopes.
Option of confocal imaging with continuous perfusion
Accommodates both upright and inverted microscopes
17.7 mm diameter viewing aperture (RC-30, RC-30HV)
25.0 mm diameter viewing aperture (RC-30WA)
User defined cross-sectional viewing area
User defined bath volume with fast fluid exchange
Three available gasket thicknesses
Resistive heating option on chamber base
Physical Dimensions
    9.5 × 82 mm (H × D)
Weight
    < 90 g, assembled with optional heaters
Base and Pressure Plate
    Aluminum, black anodized
Top Coverslip Plate
    Polycarbonate
Gaskets
    Silicone rubber
Input/Output Tubing
    PE-90
Coverslips (#1)
    Top: 22 × 30 mm; Bottom: 22 × 40 mm
Microscope Stage Adapters
Uses Series 30 stage adapters. For exterior dimensions use exterior dimension information for corresponding Series 20 adapters.
Microscope Stage Adapters are available for major models of Leica, Nikon, Zeiss, Olympus, Prior, Ludl, Burleigh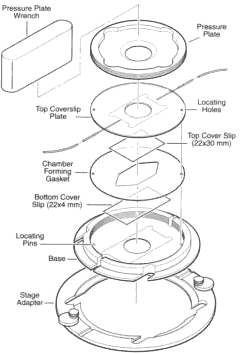 The RC-30 and RC-30HV are closed bath low profile chambers incorporating special features for microscopic confocal imaging.
These features include user defined bath geometry and a large viewing area. A 22x30 mm, #1 glass coverslip forms the top of the chamber, while a 22x40 mm, #1 coverslip forms the bottom, respectively, creating a closed bath. The closed design allows the chamber to be inverted in the mounting platform enabling its use with both inverted or upright microscopes. The final viewing aperture is 17.7 mm diameter.
The RC-30WA is a wide aperture version of the RC-30HV. It uses a 40 mm, #1 coverslip for its bottom surface and a 30 mm, #1 coverslip for the top. The final viewing aperture is 25 mm diameter.
Variable Bath Volume/Fast Perfusate Exchange:
The side walls of the RC-30 bath is formed by a silicone gasket sandwiched between the top and bottom coverslips. Wall height (i.e. spacing between the two coverslips) can range from 150-1000 µm and is defined by the thickness and number of gaskets used. Blank gaskets are supplied with the chamber permitting the development of the customized bath geometry required for individual applications.
Pre-cut gaskets are also supplied with the chamber; one cut wide to allow full use of the aperture window (17.7 mm diameter) and a narrow, slotted version for fast solution exchange. The bath volumes for these pre-cut, 250 µm thick gaskets are 26 µl for the slotted cut and 133 µl for the wide cut.
Large Viewing Area:
The viewing aperture in the chamber housing is 17.7 mm in diameter. The chamber bottom is beveled to permit maximum access to the bottom coverslip.
Reversible:
The chamber can be mounted in the stage adapter to accommodate both upright and inverted microscopes.
Heater Version:
The RC-30HV and RC-30WA include a pair of resistive heater elements mounted to the chamber base. These resisters are compatible with Warner TC-324B and TC-344B temperature controllers which be ordered separately along with the CC-28 cable.
All versions of the confocal imaging chambers require special Series 30 microscope stage adapters which must be ordered separately.
Confocal imaging chambers are supplied with six packages of pre-cut gaskets: two large area bath gaskets (GS-30L/10, GS-30L/15), two slotted bath gaskets (GS-30S/10), and two blank gaskets (GS-30B/10, GS-30B/15) for user customized chamber areas.  Also included is a special tool used for mounting the top plate, polyethylene tubing (PE-90/10, 10 feet.), and 22 × 30 mm and 22 × 40 mm #1 glass coverslips (CS-22/30 and CS-22/40, pkg. of 50).  The RC-30WA includes one box each of 30 mm round coverslips, (CS-30R, and 40 mm round coverslips, CS-40R).