HEKA EPC 10 family

Share
Patch Clamp Amplifier Series
Description
EPC 10 USB
HEKA released a family of fully computer controlled patch clamp amplifiers, which is still up to date. The EPC 10 USB amplifiers are available with one (EPC 10 USB), two (EPC 10 USB Double), three (EPC 10 USB Triple) or four (EPC 10 USB Quadro) amplifiers. The EPC 10 USB patch clamp amplifiers are successors of the revolutionary EPC 9 patch clamp amplifiers, which were first introduced in 1990, and the well known EPC 10 patch clamp amplifiers, which replaced the EPC 9's in 2002. This hardware product line is fully integrated with HEKA's new LIH 8+8 AD/DA interface. The built-in interface utilizes the latest USB 2.0 and high speed processing technologies without the need for a peripheral PCI card. The advanced integration of the EPC 10 USB with the interface and software minimizes total recording noise, eliminates compatibility problems and reduces additional equipment expenses and set-up time.
The digital control of all amplifier functions has been designed with two advantages in mind. Firstly, if a computer controls the functions of the amplifier, then the data acquisition program can access and store variables that describe all of the settings during an experiment. Secondly, computer control allows a number of operations to be automated.
These include automatic switching (e.g, switching between the settings for establishing a seal or those for single channel recording) and also the automatic adjustment of capacitance transients cancellation and series resistance compensation. In fact, digital control of every adjustable parameter in the amplifier circuitry is implemented, including the calibration adjustments.
The EPC 10 is a complete data acquisition system, which can be used with HEKA's PATCHMASTER or TIDA software. A DLL (dynamic link library) is available to allow access of the system from a custom written application. The EPC 10 USB patch clamp amplifier, combined with a computer and PATCHMASTER or TIDA software is equivalent to a fully equipped setup, which includes a patch clamp amplifier, a digital storage oscilloscope, a variable analog filter, a sophisticated pulse generator, and a fully featured data acquisition and analysis system.

Applications

Low noise single channel recordings
Low noise whole-cell patch clamp recordings: voltage clamp and current clamp / LFVC
Loose patch recordings
Intracellular voltage recordings with high resistance electrodes
Field potential recordings with metal microelectrodes
Recording from artificial membranes (Bilayer recordings)
Study of Long Term Potentiation (LTP) and Long Term Depression (LTD)
Study of Exocytosis/Endocytosis or Synaptic transmission by

Measurement of whole-cell membrane capacitance (Patchmaster)
Measurement of on-cell membrane capacitance (Patchmaster)
Detection of released substances (amperometry with e.g. carbon fiber electrodes)

Detection of released substances under a patch (patch amperometry)
EPC10/n USB
The EPC 10 USB Double, Triple, and Quadro patch clamp amplifiers are the optimal instruments for performing double or triple patch experiments. Although either two (EPC 10 USB Double), three (EPC 10 USB Triple) or four (EPC 10 USB Quadro) amplifiers are combined in a single housing; each amplifier is completely independent with clearly defined operation and handling. HEKA's software stimulates the desired amplifier and selected channels are programmed without tedious connection of cables by the user.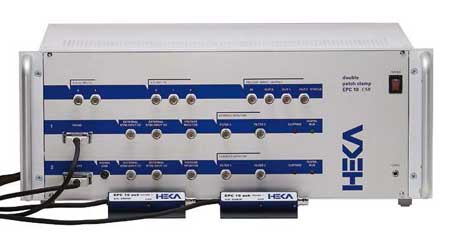 EPC 10 USB Double
Features:
Full computer control (Mac and Windows based)
Can be used with PatchMaster on Windows operating systems, and Mac OS X
Automatic self-test and calibration
Automatic Capacitance neutralization
Capacitance tracking
Automatic leak subtraction
Optimized, built-in interface
Integration with the ITC-18 AD/DA interface to the host computer
Ultra slim-line headstage design with improved noise performance
True Current Clamp capabilities
Low Frequency Voltage Clamp
Digital outputs & telegraphing inputs
Integration of hardware and software eliminates compatibility problems on Windows operating systems
True noise measurements from 100 Hz to 15 kHz
Suitable for single-channel and whole-cell measurements, loose patch experiments, capacitance measurements, recordings from plant cells and organelles, and studying reconstituted channels in artificial membranes
100-130 V AC or 200-260 V AC switchable