MAG-2

Share
Head Holding Device with Angle Adjuster for Mice (Narishige)
Description
For deeper imaging experiments under a microscope.
After bonding a chamber onto the head of a mouse on the SR-9M-HT Stereotaxic Instrument, the MAG-2, designed to be compact in size, can be transferred and placed under a microscope or other experimental instrument for performing observations/experiments. The MAG-2 can be placed under a laser microscope or stereomicroscope, and is most suitable for in vivo observation/imaging experiments. Also equipped with angle adjusters for obtaining deeper images.

Attachable chambers: CF-10, CP, CP-1, CP-2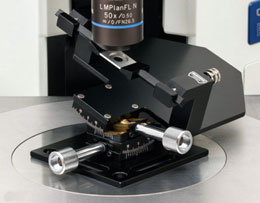 Angle of inclination


Accessories included
CP-1 Chamber Plate (one each)
CP-2 Chamber Plate (one each)
Hex Wrench
Vinyl Sheet
The chamber frame is customizable to your own application. Please contact us for details.
The CFR-1 / CFR-2 Chamber Frame (for rats) can NOT be attached.
Dimensions/Weight
    W 87 × D 136 × H 58 to 72 mm, 232 g
Maximum angle of inclination
    Longitudinal     ± 10°
    Lateral     ± 15°
Load-bearing Capacity
    0.5 kg