RSC-200

Share
Perfusion System (BioLogic)
Description
The study of neurotransmitters,ligands, and changes of concentration of ions are important issue in modern patch-clamp experiments. Bio-Logic's Rapid Solution Changer, the RSC-200 is a simple and easy-to-use system that allows scientist to address these issues.

Command box
Stepping motor
Rotating head (4 to 36 holes)
Set of tubing
Set of syringes
Micromanipulator
Magnetic stand
Rack with 9 electrovalves
Syringe rack holder
Unique features:
Fast and automated solution change
No dead volume
No cross contamination between solutions
Precise setting of the flow with optional programmable motorized syringes
Compatible with Axon and Heka software
Introduction on RSC operation
Change of concentration of ion, neurotransmitters or of all possible sort of ligands to be tested is an important issue in modern patch-clamp recordings. The Bio-Logic Rapid Solution Changers are the simplest and easiest-to-use systems to achieve this goal.
These instruments use the principle known as "sewer pipes" in which the cell or the tip of the electrode (in excised-patch mode) is positioned close to the output of a capillary. The solution to be assayed is flowing out of the capillary at a moderate flow rate. The cell, being exposed in this stream, very rapidly equilibrates in the perfusion solution.
The fact that all solutions are flowing in individual tubes right to their end eliminates all problems of dead volumes, washing and cross-contaminations between solutions to be assayed (1,2). This perfusion principle has been used in many laboratories where it has been proved that it was a very adequate system for solution assays.
Fast and automated solution change:
The solutions to be assayed are driven to the rotating head of the RSC. The solution exchange is performed by a very precise rotation of the RSC head which exposes the patch pipette or the cell to the flow of one of the tubes. Times of rotation from one tube to the adjacent one can be programmed from 2 to 800 ms. The motor is light and vibration free thanks to the disk rotor technology and to the micro step command delivered by the controller. Due to the high number of tubes it is possible to have one tube for every solution to be assayed. As compared to fixed tube devices, the rotating head permits a fast change of the perfusion solution around the patch pipette without any contamination from the previous solution at the time of solution switching.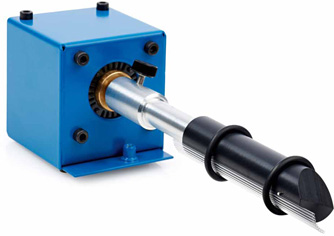 Specifications  (RSC-200):
Tube control:      up to 36
Valve or motorized syringes control (with optional EVH-9 or MS-x Unit(s)):    up to 36 (with 4 × EVH-9 or 4 × [MS-1 + MS-8])
Built-in stimulator:    Yes
GPIB interface:    Yes
Ordering information
The RSC-200 are delivered complete with: command box, stepping motor, driving software, one syringe rack with 18 mm holes (or 32 mm on request) and one "Straight head" (and a tubing kit). All other parts listed on Specifications site are optional and should be specified on order or may be purchased separately.
The straight head is delivered with a tubing kit composed of: 100 × Glass capillaries of an outside diameter 1.00 mm (Ref: GB 100TF 8P - thin wall with filament, ID = 0.78 mm, length: 8 cm, fire polished ends); Polyethylene tubing (5 m length, ID: 0.3, OD: 0.70 mm);  C-Flex tubing (7,5 m length, ID: 0.5 mm, OD: 2.1 mm);  9 × luer lock female; 9 × 10ml plastic syringe (or 50ml syringe on request); 2 × O-Rings