MX series

Share
MX-1, MX-2, MX-3, MX-4: Three-Dimensional Micromanipulators (Narishige)

Description
The MX-1* originally was developed for use in patch clamp work, featuring drift-free stability to keep patch probes fixed in the same position over an extended period.  A built-in rotating mechanism allows quick and simple replacement of microelectrodes.  Featuring the same basic design as the MX-1, the MX-2 is mounted on a convenient tilting stand (TM-1) with a magnetic base.
Coarse movement range:   35 mm (X), 25 mm (Y), 25 mm (Z)
movement range:             4 mm (X), 4 mm (Y), 25 mm (Z)
Minimum graduation:       1 µm   
Moving ratio:                    5:1    
Full rotation of Z adjustment knob:  coarse movement 18 mm
                                                  fine movement 200 µm
Accessories: H-1, spanner, tension adjustment pin, wrench                        
MX-1 Dimensions:   200 (W) × 170 (D) × 185 (H) mm
         Weight:          3,3 kg
MX-2 Dimensions:   200 (W) × 170 (D) × 270 (H) mm
         Weight:          6,7 kg
Notes:  * MX-1 and MX-3 are Narishige group 2 products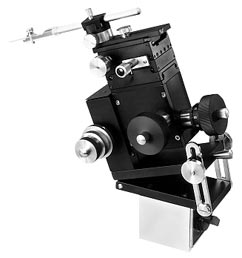 MX-4
The MX-3* compact micromanipulator with a manual drive mechanism provides a drift-free performance, making it ideal for long term patch recording. A built in rotation mechanism allows easy and swift microelectrode replacement. This unit easily attaches to a wide variety of microscopes and can be positioned at any desired angle as well.
The MX-4 micromanipulator has all the features of the MX-3, plus a tilting magnetic stand.
Coarse movement range:     25 mm (X), 15 mm (Y), 35 mm (Z)
Fine movement range:         3 mm (X), 3 mm (Y), 35 mm (Z)
Minimum graduation:           1 µm
Full rotation of Z adjustment knob  coarse movement 18 mm
                                                  fine movement 200 µm
Accessories:          H-1, spanner, tension adjustment pin
MX-3 Dimensions:  160 (W) × 110 (D) × 170 (H) mm
         Weight:         1,9 kg
MX-4 Dimensions:  140 (W) × 95 (D) × 230 (H) mm
         Weight          2,8 kg