CEA 200SS

Share
Tapered Tip Concentric Microelectrodes, Open Shield (MicroProbes)
Description
Possessing an insulated stainless steel shield with exposed concentric surface.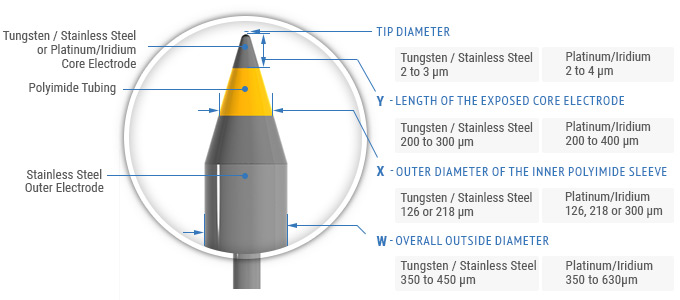 The CEA-200-SS Concentric electrodes with exposed metal shield are excellent for shield macro recording of a large number of neural elements, nerves or neurons, simultaneously; as opposed to single unit recording that intended to record from one or just a few neural elements. The CEA-200-SS are ideal for chronic implantation.
Compared to the stepped "Rhodes" style tips of the NE and SNE Concentric models, the tips of the MicroProbes CEA models are precision-ground to a sharp point.
Many features are fully customizable by special order, including shaft length, flexible wire length, connector type, and other features.
Tungsten Concentric Electrodes,
tapered tip, with Exposed Metal Shield
| | | | | | | |
| --- | --- | --- | --- | --- | --- | --- |
| Item | Length | W | X | Y | Tip Diameter | Pkg of 5 |
| WE3CEA3-200-SS | 76 mm | 350 µm | 126 µm | < 300 µm | 2-3 µm | |
| WE3CEA5-200-SS | 76 mm | 450 µm | 218 µm | < 300 µm | 2-3 µm | |
| WE5CEA5-200-SS | 127 mm | 450 µm | 218 µm | < 300 µm | 2-3 µm | |
Stainless Steel Concentric Electrodes,
tapered tip, with Exposed Metal Shield
| | | | | | | |
| --- | --- | --- | --- | --- | --- | --- |
| Item | Length | W | X | Y | Tip Diameter | Pkg of 5 |
| SS3CEA4-200-SS | 76 mm | 350 µm | 140 µm | < 300 µm | 2-3 µm | |
| SS5CEA4-200-SS | 127 mm | 350 µm | 140 µm | < 300 µm | 2-3 µm | |
Platinum/Iridium Concentric Electrodes,
tapered tip, with Exposed Metal Shield
| | | | | | | |
| --- | --- | --- | --- | --- | --- | --- |
| Item | Length | W | X | Y | Tip Diameter | Pkg of 5 |
| PI2CEA3-200 | 25 mm | 350 µm | 126 µm | < 400 µm | 2-3 µm | |
| PI2CEA5-200 | 25 mm | 450 µm | 218 µm | < 400 µm | 2-3 µm | |
| PI2CEA10-200 | 25 mm | 630 µm | 300 µm | < 400 µm | 2-3 µm | |
Also see:
Selecting the Optimum Electrode Configuration