RC-10, RC-11, RC-16

Share
Imaging Chambers (Warner)
Description
The RC Series are open bath chambers suitable for physiological experiments performed with inverted or dissecting microscopes. Relevant procedures include patch clamp, recording from oocytes, isolated perfused tubule, and cell impalement. They have also been used for perfusion in fluorescence microscopy. RC Series chambers are made from polycarbonate.
A 24 × 60 mm, #2 thickness coverslip (user attached) becomes the floor of the bath. The coverslip is attached with vacuum grease or more permanently with Sylgard or RTV cement.
Perfusion can be gravity fed and removed via suction, or alternatively, input and output can be pump controlled. The perfusion input accepts standard 1.57 mm OD (PE-160) polyethylene tubing. Solutions are removed from a separate suction reservoir to minimize noise in the recording. The suction tube is adjustable to control the bath solution level. Flow rates can exceed 10 ml/min with gravity feed. Multiple perfusion lines can be connected using one of the MP manifolds. The MP manifold replaces the single input perfusion connector.
An isolated reservoir is provided for an agar bridge in the recording ground circuit. An additional agar bridge well (for oocyte recording) can be specified at no additional cost.
Small Volume Imaging Chamber RC-10 (160 µl)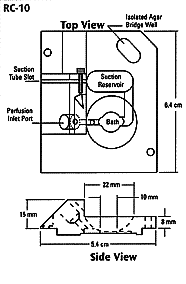 This small bath model, 10 mm in diameter, is recommended where smaller volumes and fast exchange times are important.
Bath volume is 160 µl with 2 mm solution height. A single agar bridge well is supplied on this model.
Large Volume Imaging Chambers RC-11 (190 µl), RC-16 (400 µl)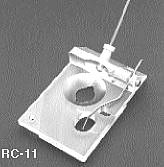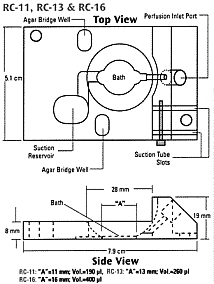 These larger bath chambers are used for studies of oocytes, slices and other larger preparations. Model RC-16 may also be used in patch clamp experiments where cultured coverslips are placed in the bath. RC-16 accepts 15 mm diameter coverslips. A groove is milled in the chamber underside to hold the coverslip in place.
Note: The double thickness of glass (bottom plus sample coverslips) may not be compatible with some short working distance microscope optics.
Mounting the chamber RC Series chambers are mounted to a microscope with one of the RC Series stage adapters.
Ordering Information
Each chamber is supplied with:
1 plug-in perfusion input manifold [single input]
1 Pkg (40) #2 coverslips, 24 × 60 mm
2 glass and 1 stainless steel suction tubes.